Editorial
Right well here goes for another editorial. I've actually been wondering what I can bitch about in this editorial, it's just my luck that nothing has particularly got on my nerves over the last week or so - I don't drive :)
So to pass the time until I think of something I've invested many hours of work into creating this exciting free gift for you our dedicated reader. Yes it's a badge! All you need to do is cut around the dotted line and then fix a safety pin to the back and you can wear it with pride! Please note that we do recommend that you print this page first before cutting the badge our, Spunk-Monkey damaged three monitors here at the office before he realised.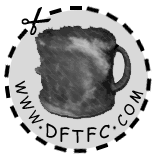 Well I should really start bitching about something right around here, but I figured I'd just let everyone know what's happening around the office today. Well We haven't seen a great deal of 'Winnie the Poo' for a couple of days now and quite frankly we are beginning to get worried… If anyone sees him wandering around can they tell him to get his arse back in the office and do some work! Earlier this week I spent a productive day figuring out how to make Internet Explorer show a little icon of the Furry Cup in the address bar. neat
We found a new company that provide air hockey tables, since ours keeps breaking down when Spunk-Monkey and Hoffin' Bigman use it. So that should keep us out of mischief. Well gosh hasn't it been fun and busy this week!
Anyway let me just tell you what's new on the site. We have a new webcam setup, and this one is amazing. DFTFC are proud to present the all new all singing (well not actually, but its reads better like that) CMWLOBFL Cam! For those of you are a little bit thick that stands for "Cable Modem With Lots of Blinky and Flashy Lights". Yes we now have our other webcam pointing at a Cable Modem, fun or what!
There are a couple of new music reviews in the "Aural Pleasure" section, and I'll try to get off my overpaid arse and write some new reviews for "Eye Candy".
Thanks, and remember to spread the word about us!